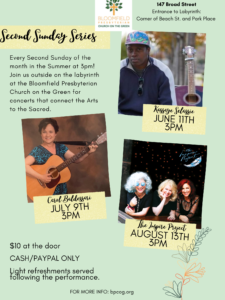 Our Second Sunday Summer Concert Series returns on June 11th at 3PM. This month we feature local artist Kassaye Selaisse.
Accompanying himself on guitar, Kassaye has performed at numerous local venues. "Coming from a large family of singers, it was only natural to fall into this life. Inspired by the greats of yesterday, I hope to create new sounds to further their spirits. Not conforming to one particular genre of music helped me to not only appreciate other forms of music, but to re-introduce them to both mainstream and underground audiences."
At the Bloomfield Presbyterian Church on the Green we strive to connect the arts to the sacred. Our Summer Concert Series are held at 3PM every second Sunday outdoors in the Labyrinth, located at 67 Park Place in Bloomfield. Admission is $10 at the door, cash/PayPal only. Light refreshments will be served following the performance.
Advance tickets are available here.