Sunday, July 10, 3PM, Christine Boger-Walthers                               "Twice the Love. Twice the Loss. Twice the Hope."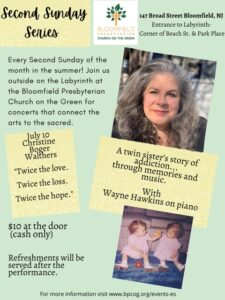 Through sharing of memories and music, Christine Boger-Walthers tells the story in song of her twin sister's opiate use disorder and addiction. Christine and her twin sister Leanne grew up at the Church on the Green where their father served as pastor. Christine Boger-Walthers will be joined by jazz pianist, Wayne Hawkins.
The concert will take place in the Outdoor Labyrinth (corner of Beach St. & Park Pl.), or indoors in the event of rain. Tickets are $10 (cash only) at the door.