"Something Beautiful" Concert by Corinna Sowers-Adler, Sat. June 25, 4PM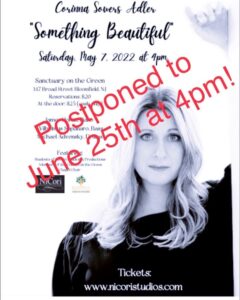 Bloomfield Presbyterian Church on the Green in conjunction with NiCori Studios and Productions proudly presents Corinna Sowers Adler in "Something Beautiful" on Saturday, June 25, 2022 at 4pm in the Chapel. 
Named "One of the most gorgeous voices in New York City", Corinna Sowers Adler, debuted this program in Jazz at Lincoln Center's majestic Appel Room. Filled with magical songs by Billy Joel, Ahrens and Flaherty, Mary Chapin Carpenter, Elton John, Stephen Schwartz, and others, Corinna Sowers Adler will mesmerize and delight while packing an emotional punch with the songs of "Something Beautiful". Corinna, a Tony Award nominee for Excellence in Theatre Education, will include a chorus of NiCori Teen Ensemble singers and members of the Church on the Green Chapel Choir in "Something Beautiful". The concert also features James Horan on piano, Wilhemous Sapanaro on bass and Michael Advensky on drums.
From a Huffington Post article about Corinna: "Look for future performance dates by her to be announced, and if those dates include 'Something Beautiful,' run, don't walk, to see it. It will touch your heart, uplift your soul, and make you want to dance."
Note: due to illness, the original date for the concert has been changed to the above date, June 25, 4PM.
Second Sunday Summer Series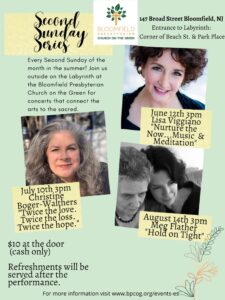 Every second Sunday of the month, this summer, a concert for the church and community will be presented in the church's newly installed outdoor Labyrinth space (intersection of Beach St. & Park Place). Each featured performer connects spirituality to the arts in her own way.
Refreshments will be served after the performances. Tickets are $10 at the door (cash only).
All welcome!
Sunday, June 12, 3PM, Lisa Viggiano                                                              "Nurture the Now… Music & Meditation"
Cultivating mindfulness through music and meditation is a powerful practice. Melodies and lyrics can be a path to reflection and opening our senses to the present moment. Nurture the Now: Music & Meditations is a concert of sacred secular music and guided mindfulness meditation. Lisa Viggiano, vocalist and mindfulness meditation teacher, will be joined by jazz pianist, Jon Weber. This interactive presentation will foster everyday spirituality through the power of music and mindfulness. To learn more about Lisa Viggiano, visit https://www.lisaviggiano.com/
Sunday, July 10, 3PM, Christine Boger-Walthers                               "Twice the Love. Twice the Loss. Twice the Hope."
Through sharing of memories and music, Christine Boger-Walthers tells the story in song of her twin sister's opiate use disorder and addiction. Christine and her twin sister Liane grew up at the Church on the Green when their father served as pastor. Christine Boger-Walthers will be joined by jazz pianist, Wayne Hawkins.
Sunday, Aug. 14, 3PM, Meg Flather                                                                  "Hold on Tight."
Singer/Songwriter, Meg Flather, has won both MAC and BroadwayWorld awards for Best Original Song. In "Hold on Tight", she shares the many universal lessons she learned as a caregiver for both her parents. Through her original songs, Meg tells a true love story with plenty of humor, grit, and gratitude. To learn more about Meg Flather, visit https://megflather.com/home
Sanctuary on the Green Benefit Concert — September 17, 2022
The Sanctuary on the Green Benefit Concert originally scheduled prior to the pandemic will now be presented on Saturday, September 17, 8:00PM, featuring a host of community arts groups and Broadway performers. SAVE THE DATE and watch for more details!