ATTENTION Vacation Bible Camp Kids!  Great news! We are adding an extra day of Vacation Bible Camp on Friday, Aug. 7, 6:00PM, to make up for the day we missed on Tuesday. (Families, please start logging in at 5:45PM.) It's great to have the Rocky Railway back on track!  Jesus' Power Pulls Us Through!
Here's the Day 5 Craft video with Ms. Diann:
Here's the Day 4 Craft video with Ms. Diann. (NOTE TO CAMPERS–if you don't have any glue dots left, trying using white glue or a little bit of tape or maybe a glue stick.)
Here's the Day 3 Craft video with Ms. Diann:
Here is the Day 2 Craft Video!
Here is the Day 1 Craft with Ms. Diann!
Vacation Bible Camp: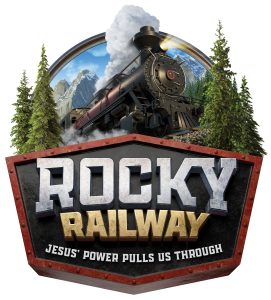 "Rocky Railway: Jesus' Power Pulls Us Through" is the theme of this summer's Virtual Vacation Bible Camp, Aug. 2-6, 6:00-8:30PM. Because of the Covid-19 crisis, we will meet via Zoom. Our team is working extra hard to make VBC just as fun-filled and action-packed as ever, with music, crafts, Bible discovery, games, skitsV and a "KidVid cinema" featuring real kids sharing real stories of how they have experienced Jesus' power pulling them through life's difficulties. Please register by July 13. (This is a firm deadline.) To register,  visit https://vbspro.events/p/events/railway.  A suggested donation of $25 (and $10 for each additional child from the same family) will help cover all expenses, including a VBC t-shirt for each camper! Scholarships are available. Email kidsonthegreen@bpcog.org for more information or to request a scholarship.
Children and Worship: We warmly welcome children to the worship service by providing a Worship Bag and children's activity bulletin every Sunday. Pastor Boling gives a special Children's Message every week that is related to the overall theme of the service. We do not staff a church nursery, but we fully understand that parents may need to step out with a restless infant or toddler as needed and return when ready. Children and youth assist the pastor as worship leaders from time to time.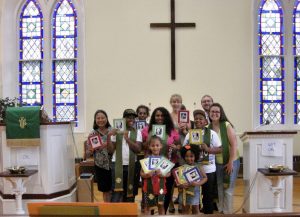 Bible Palooza!  What happens when you put kids together with caring adults for three hours on Sunday afternoon and add games, lunch, music, Bible storytelling, discussion, arts and crafts and a snack? Bible Palooza, that's what! Once a quarter we pull out all the stops and plan a fun and faith-filled afternoon of learning for kids of all ages. Past Bible Palooza themes have included Bible Heroes, Psalm 23, We Worship Together, and C.S.I. God (Church Scripture Investigation). During the Covid-19 crisis, we meet via Zoom instead of in person.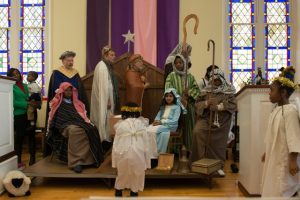 Children's Christmas Pageant: Each year on the second Sunday of Advent, an original Christmas Pageant written by Pastor Ruth takes the place of the sermon. There is always a part for every child and teenager in the church, and even some of the adults!
Scholarship Sunday:  We are pleased to award scholarships annually to eligible students from the congregation who are furthering their education in college or graduate school.