Advent begins on Sunday, Nov. 29! The Education Team has been busy preparing Advent bags with supplies to make an Advent wreath at home. Church on the Green folk, this is your friendly reminder to stop by the church on Sat. Nov. 28, 10AM-Noon, to pick up your bag. Come to the Chapel entrance on Broad St. Then log-in at 3PM on Zoom and we'll make our wreaths together: Advent Wreath Making. For those unable to Zoom at 3PM, watch this video demonstration with Ms. Diann.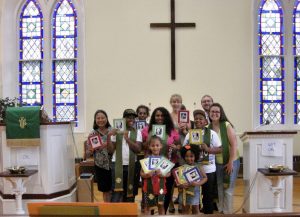 Bible Palooza!  What happens when you put kids together with caring adults for three hours on Sunday afternoon and add games, lunch, music, Bible storytelling, discussion, arts and crafts and a snack? Bible Palooza, that's what! Once a quarter we pull out all the stops and plan a fun and faith-filled afternoon of learning for kids of all ages. Past Bible Palooza themes have included Bible Heroes, Psalm 23, We Worship Together, and C.S.I. God (Church Scripture Investigation).
Bible Palooza Kids: Here is Ms. Diann with your Bible Palooza Prayer Book craft!
To see more examples of illuminated manuscript pages, please visit the collection at the Cleveland Museum of Art