Children and Worship: We warmly welcome children to the worship service by providing a Worship Bag and children's activity bulletin every Sunday. Pastor Boling gives a special Children's Message every week that is related to the overall theme of the service. We do not staff a church nursery, but we fully understand that parents may need to step out with a restless infant or toddler as needed and return when ready. Children and youth assist the pastor as worship leaders from time to time. The Youth Choir sings approximately six times a year.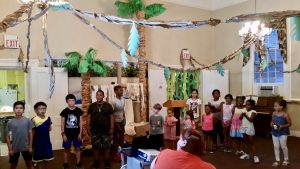 Vacation Bible Camp:  New in 2018, we offered a week of hands-on fun and learning for kids age 4-yrs through 8th grade. Dinner, music, crafts, Bible Discovery lessons, games, skits and our KidVid cinema made for a lively program while we were all "Shipwrecked" together for the week learning how Jesus rescues us from the storms of life. Campers filled a treasure chest with daily food offerings for our Food Pantry—peanut butter, jelly, spaghetti sauce, canned tuna and canned fruit. Spectacular decorations transformed the Parish House into a tropical island complete with vines, palm trees and a waterfall.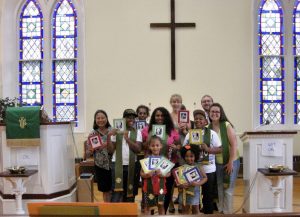 Bible Palooza!  What happens when you put kids together with caring adultsforthree hours on Sunday afternoon and add games, lunch, music, Bible storytelling, discussion, arts and crafts and a snack? Bible Palooza, that's what! Once a quarter we pull out all the stops and plan a fun and faith-filled afternoon of learning for kids of all ages. Past Bible Palooza themes have included Bible Heroes, Psalm 23, We Worship Together, and C.S.I. God (Church Scripture Investigation). Our next Bible Palooza is Sunday, Sept. 30, Noon-3:15PM. Click here for the flyer: Bible Palooza, Sept 30, Flyer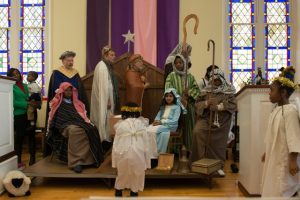 Children's Christmas Pageant: Each year on the second Sunday of Advent, an original Christmas Pageant written by Pastor Ruth takes the place of the sermon. There is always a part for every child and teenager in the church, and even some of the adults!
Scholarship Sunday:  On October 21, 2018 we were pleased to award four (4) college scholarships to our students who are furthering their education in college or graduate school.