Bible Palooza!
What happens when you put kids together with caring adults for three hours on Sunday afternoon and add games, lunch, music, Bible storytelling, discussion, arts and crafts and a snack? Bible Palooza, that's what! Once a quarter we pull out all the stops and plan a fun and faith-filled afternoon of learning for kids of all ages. Past Bible Palooza themes have included Bible Heroes, Psalm 23, We Worship Together, and C.S.I. God (Church Scripture Investigation).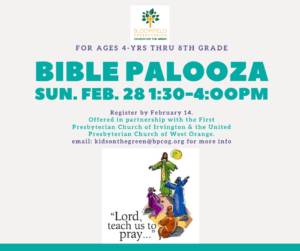 Our next Bible Palooza will be Sunday, Feb. 28, 1:30-4:00PM via Zoom. Our theme is "The Lord's Prayer.  We are delighted to be partnering with the First Presbyterian Church of Irvington and the United Presbyterian Church of West Orange on this extravaganza. All are welcome. There is no charge.
VIDEO LINK–The Lord's Prayer in American Sign Language
Kids, click here to learn how to pray The Lord's Prayer using American Sign Language. Watch it as many times as you'd like and practice the hand motions at home.
Some of the words may be different from the words you learned at church. We'll learn why at Bible Palooza. See you then!