Children and Worship: We warmly welcome children to the worship service by providing a Worship Bag and children's activity bulletin every Sunday. Pastor Boling gives a special Children's Message every week that is related to the overall theme of the service. We do not staff a church nursery, but we fully understand that parents may need to step out with a restless infant or toddler as needed and return when ready. Children and youth assist the pastor as worship leaders from time to time.
Vacation Bible Camp: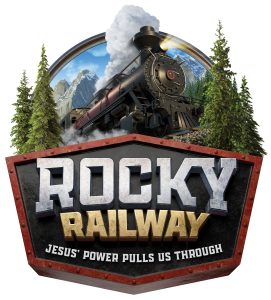 "Rocky Railway: Jesus' Power Pulls Us Through" is the theme of this summer's Vacation Bible Camp, scheduled for July 12-16, 5:30-8:30PM. SAVE THE DATES! Each day includes dinner, music, crafts, Bible discovery, games, skits and a "KidVid cinema" featuring real kids sharing real stories of how they have experienced Jesus' power pulling them through life's difficulties. When we receive the "all clear" signal permitting groups to gather again after this current public health crisis, we will provide further details. Watch this space.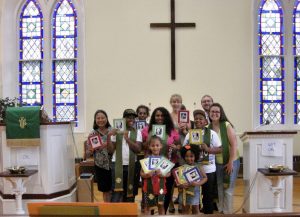 Bible Palooza!  What happens when you put kids together with caring adults for three hours on Sunday afternoon and add games, lunch, music, Bible storytelling, discussion, arts and crafts and a snack? Bible Palooza, that's what! Once a quarter we pull out all the stops and plan a fun and faith-filled afternoon of learning for kids of all ages. Past Bible Palooza themes have included Bible Heroes, Psalm 23, We Worship Together, and C.S.I. God (Church Scripture Investigation).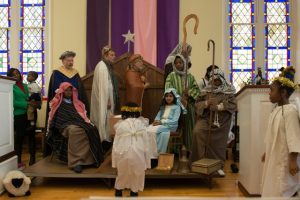 Children's Christmas Pageant: Each year on the second Sunday of Advent, an original Christmas Pageant written by Pastor Ruth takes the place of the sermon. There is always a part for every child and teenager in the church, and even some of the adults!
Scholarship Sunday:  We are pleased to award scholarships annually to eligible students from the congregation who are furthering their education in college or graduate school.