Second Sunday Concert Series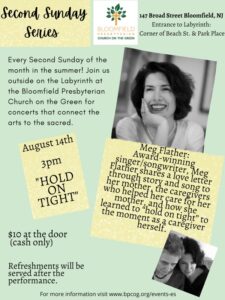 Every second Sunday of the month, beginning this summer, a concert for the church and community will be presented in the church's newly installed outdoor Labyrinth space (intersection of Beach St. & Park Place). Each featured performer connects spirituality to the arts in her own way.
Refreshments will be served after the performances. Tickets are $10 at the door (cash only).
In the event of rain, the concert will be presented indoors. All welcome!
Sunday, Aug. 14, 3PM, Meg Flather                                                                  "Hold on Tight."
Singer/Songwriter, Meg Flather, has won both MAC and BroadwayWorld awards for Best Original Song. In "Hold on Tight", she shares the many universal lessons she learned as a caregiver for both her parents. Through her original songs, Meg tells a true love story with plenty of humor, grit, and gratitude. To learn more about Meg Flather, visit https://megflather.com/home