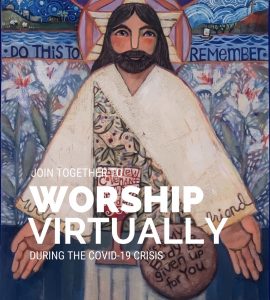 As a public health measure we will not gather for worship in person on Sunday, March 29. Instead, Pastor Ruth will lead worship virtually, via Facebook Live. At 10:45AM on Sunday, go to https://www.facebook.com/ChurchontheGreen/.  This link is available to you even if you don't belong to Facebook. The service will also remain on the church Facebook page to watch and listen at a later time, or for you to repost and share with others.  
Also, have a cup of coffee or tea ready to pour after worship and plan to jump back online for a chat. We're going to try a virtual fellowship hour! Starting at 11:30AM, you may join online (computer or smart phone) here: https://zoom.us/j/160284251.  Or you may call in:  (646)558-8656 and when prompted give the meeting ID 160 284 251.
The church building is closed for all rentals and outside groups at least until April 13. The Food Pantry remains open, with procedural modifications to avoid viral transmission. The Thrift Shop is closed.
Ministry continues at the Church on the Green although in dramatically different forms. We are making every effort to sustain relationships and provide for the spiritual needs of the community for the duration. Please watch this website, the church Facebook Page, or call the Church Office for updates.  
Thank you for continuing to support the church financially in the coming weeks to the best of your ability. (You may use the "donate" button for online giving.)
Please hold all those who are infected worldwide in your prayers, as well as health care professionals, essential service providers and the recently bereaved.