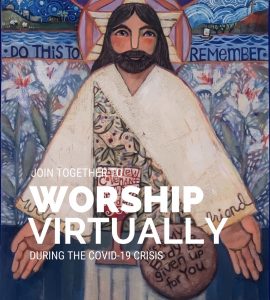 For public health reasons, we will Worship Virtually this coming Sunday at 10:45 AM via Facebook Live. To participate, go to Facebook a few minutes before 10:45 AM. (Note: you may need to scroll down the page a bit to find the live video stream.) Here's the link: https://www.facebook.com/ChurchontheGreen/.  If you are not a member of Facebook, no worries! You can also watch the service live right here on the church website (although without the "comment" and "share" features).
After worship, take a minute to get yourself a cup of coffee or tea and then log on or phone in to our Virtual Fellowship Hour via Zoom! Starting at 11:45 AM, you may join online (computer or smart phone) using this link: Virtual Fellowship Hour. If prompted, the password is: 035644. Or you may phone in by calling: (646)558-8656 and when prompted give the meeting ID: 963 3485 4807 and then the password. (NOTE: this may be a "toll call" so be sure to check your long distance plan prior to using this feature.)
All are invited to gather virtually on Sunday evenings, 5:00-6:00PM via Facebook Live, for an hour of Sacred Music, performed at the piano by Tim Witzal. You may use the "comments" feature of Facebook Live to request your favorite hymns,  which Tim will be happy to play in addition to the music he selects and prepares. Here's the link: https://www.facebook.com/ChurchontheGreen/.
The worship services are posted on the church Facebook page after the fact and can be viewed at a later time.
Please continue to support the church financially to the best of your ability during this time with your tithes and offerings by using the "donate" button on this page. We will continue to worship virtually throughout the month of May.