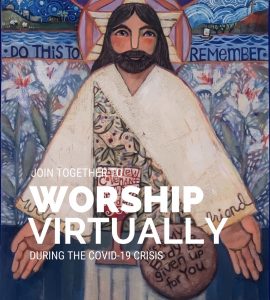 For public health reasons, we will worship virtually on Palm Sunday, April 5, 10:45AM via Facebook Live. To participate, log on to your Facebook account a few minutes before 10:45AM, or if you don't have one, go to https://www.facebook.com/ChurchontheGreen/.  This link is available to you even if you don't belong to Facebook. The service will also be posted on the church Facebook page to watch and listen at a later time, as well as on this website. Please repost and share with others.  
(If you know of someone who doesn't have internet capability, please share the following Zoom dial-in information: (646)558-8656, Meeting ID 530 830 604.)
After worship, take a minute to get yourself a cup of coffee or tea and then log on or phone in to our Virtual Fellowship Hour! Starting at 11:30AM, you may join online (computer or smart phone) here: https://zoom.us/j/904001832?.  Or you may call in: (646)558-8656 and when prompted give the meeting ID 904 001 832.
Thank you for continuing to support the church financially in the coming weeks to the best of your ability. (You may use the "donate" button on this page for online giving.)