Honorary Life Membership for Beverly Monahan
Beverly Monahan was honored with The Honorary Life Membership in Presbyterian Women on Sunday, September 1, 2013. It is conferred upon a woman or man in recognition of faithful service in church work. Beverly exudes enthusiasm and energy astounds everyone and makes every task seem effortless.
Beverly has served our church as well as Presbyterian Women for a very long time now. As a Presbyterian Woman, she has served several positions on the Coordinating Team and continues to support us by volunteering at our programs and participating in our events. She is also a member of a Bible Circle. Congratulation!


Beverly Monahan receiving the award by Eve Space and Beverly's family
---
---
---
BUILDING AND GROUNDS UPDATE September 2013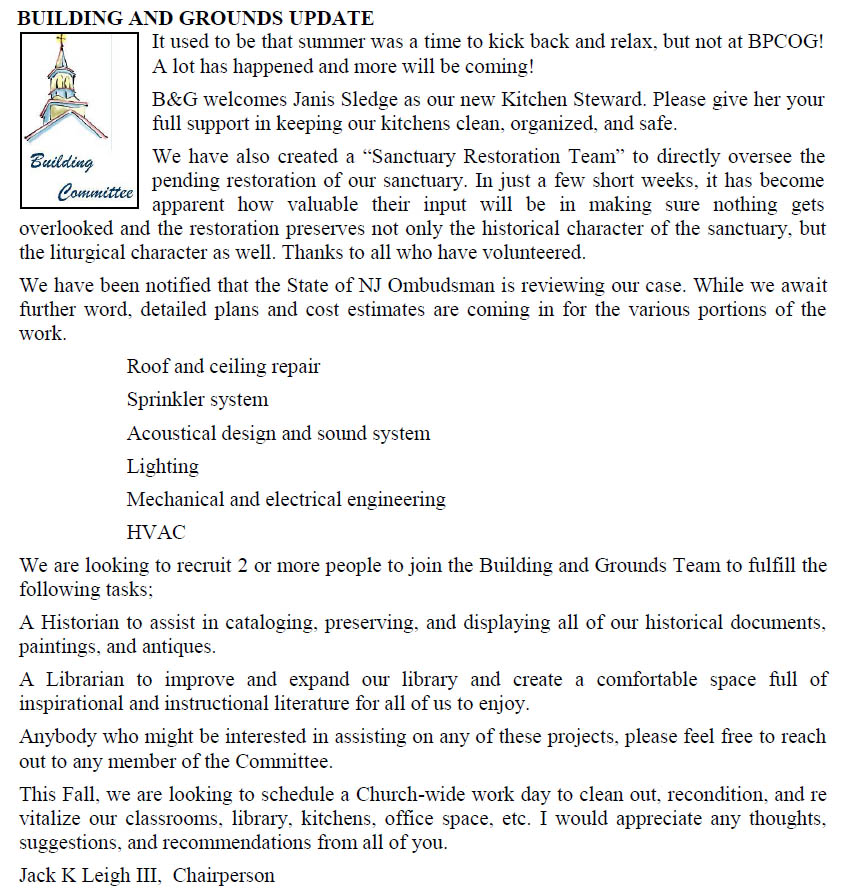 March 31 2013 - The west Wall is being repaired, all the Sanctuary's ceiling are removed and more scaffolding are erected to support the repair, and the East wall are also being repaired.


June 17 - More Scaffolding are erected inside & outside of the Church. The East Wall is being repaired, with most of the sanctuary's ceilings were removed & being replaced


April 22 - Scaffolding are erected outside of the Church & inside of the Sanctuary, to repair the ceilings & the east wall. The plaster will be removed & the blocks will be reseated. Most of the east wall will be rebuilt on the new foundation


April 8 - Major structures are being repaired; the foundation has been repaired with new sidewalks. The steel beam supports were placed to protect the wall from collapsing, in preparing for the repairs of the sanctuary's east wall
---
---
---
BEEFSTEAK DINNER- Fund Raising Events for Building Repair
The Bloomfield Presbyterian Church on the Green's Benefit Beefsteak Dinner took place on June 7, 2013, at the Essex Manor in Bloomfield, NJ. This event raised funds to restore the church's historic sanctuary building. Bobby Valli's "Jersey Legends" show headlined the evening, which also included a DJ, Tricky Tray, 50/50 raffle, and lots of beef. Everyone had a good time!
==> Click here for the Youtube Video of the Event.





THANK YOU TO ALL! BEEFSTEAK DINNER A HUGE SUCCESS!
A big thank you to everyone who worked to make the Beefsteak Dinner an amazing success! There were over 160 in attendance, and our profit thus far is $6,500 and counting - all toward our historic sanctuary renovation project. Thanks to all who worked behing the scenes and all who supported us by attending, selling tickets, selling ads for the Ad Book and donating to our Tricky Tray! And a very special thank you to our featured performer, Bobby Valli, who volunteered his time and talent on our behalf, turning an otherwise fun and profitable evening into a night we all will remember.
---
---
Memorial Day 2013
Church Members Participated in the 146th Annual Bloomfield Memorial Day Parade - May 26, 2013
---
---
---
NEW MEMBERS WELCOMED
"Joyful, Joyful, We Adore Thee," was our opening hymn on Sunday, May 5, 2013, and joy was in the air as we welcomed six new members, along with four children and a teenager. Our joy spilled over into the coffee hour as we shared cake, punch, smiles and hugs; from Pastor Ruth.


Reception of new members during the Sunday service by Pastor Ruth


The Congregation welcoming the new members


The new members with Pastor Ruth during the coffee hour with the welcoming cake
---
---
---
BOWL-A-THON
April 26, 2013 - Brunswick Bowl, Belleville, NJ


Bowling - A sport for people with talent to spare.


Thank you to everyone who came out to watch, mingle, and cheer on these intrepid athletes.


Fellowship, Food, and Friendly Competition


Many of us are looking forward to next year's event already and perhaps one day resurrecting the bowling alley in the church basement.
---
---
Condolences
---
Our Condolences to the Groel family

Blessed are the dead who die in the Lord. They will rest from their labors and their works follow them - Revelation 14:13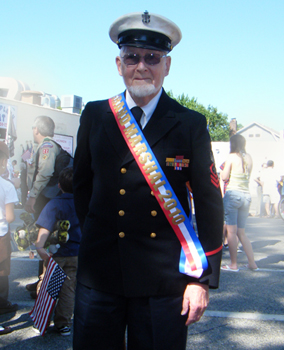 Blessed are the dead who die in the Lord. They will rest from their labors and their works follow them - Revelation 14:13

===> Click here for Otto Groel's Online Tributes from the Vander Plaat Funeral Home
---